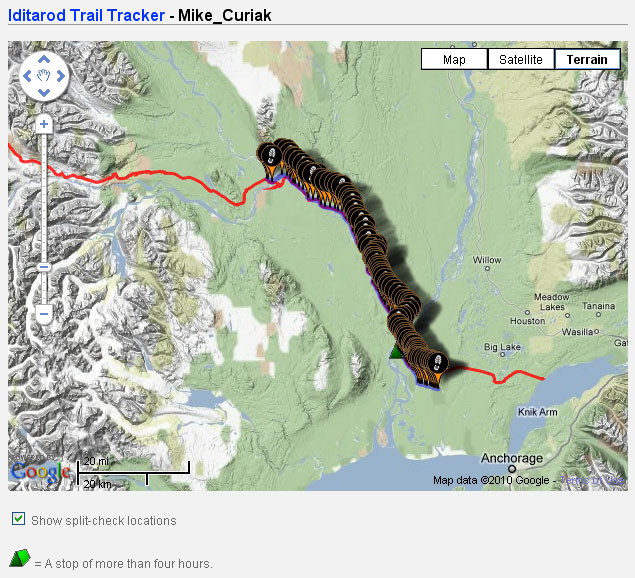 Scott Morris here. Just wanted to chime in and give everyone the link to Mike's tracking page on
trackleaders.com
:
http://trackleaders.com/iditarodi.php?name=Mike_Curiak
That tracker is updated every 10 minutes, and has the route and "check points" programmed into it. You can see speed plots, where he camped, split times... maybe more information than you wanted to know!
As of this writing (9pm AK time) Mike is just west of Skwentna, about 93 miles into his 1000 mile journey. I think he may have stopped for the night, since the point is old and he has been getting very regular updates otherwise. He's getting points almost every 10 minutes -- so far it's almost the best data I've seen from a cyclist carrying a SPOT.
I think he may have forgotten to turn the SPOT on at Knik (the start line) since we didn't get any points until about 20 miles in. So we don't have his exact start time, but I estimated it close enough. It's also interesting that he appears to have taken a different route near the beginning. The red line is Mike's own GPS track from his 2008 self-supported trip.
The iditarod is an ever changing trail that doesn't stay in one place, but this appears to be a wholly different route.
I'm very excited to be following along with Mike again, and also to have Jill on board since she actually has experience on the route and with Alaska snow biking in general.
I'm wishing Mike the best and hope that this is the year everything comes together and he makes it to Nome with fuel, legs and peanut butter cups to spare!