Swizzle Chest had to come west for a work trip. When the work was over he managed to sneak in a bit of riding and camping. You'd think a skinny kid with huge responsibilities (at home as well as at work) would take the clean lines, follow wheels, and generally just 'ride mellow'.
Tee hee.
SC can't help himself. He's one of the more naturally gifted athletes I've ever met, coupled with a few decades worth of MTB muscle memory. Take him to an unfamiliar (darn near alien, actually) environment, stick him onto a clapped out rental bike, tie a borrowed pack around his waist, and then stand back: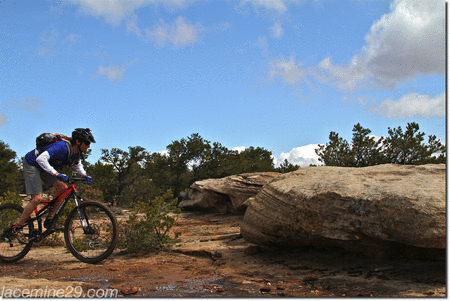 Ahem:
Always fun to spend time around such great riders. Wish it happened more often.
Currently sorting through the heap o' stills and video we shot on that trip. Hope to have it up here in a few days.
Til then--enjoy some spring!
MC